Wacky Quiz Night
January 26 @ 7:30 pm

-

10:00 pm
Event Navigation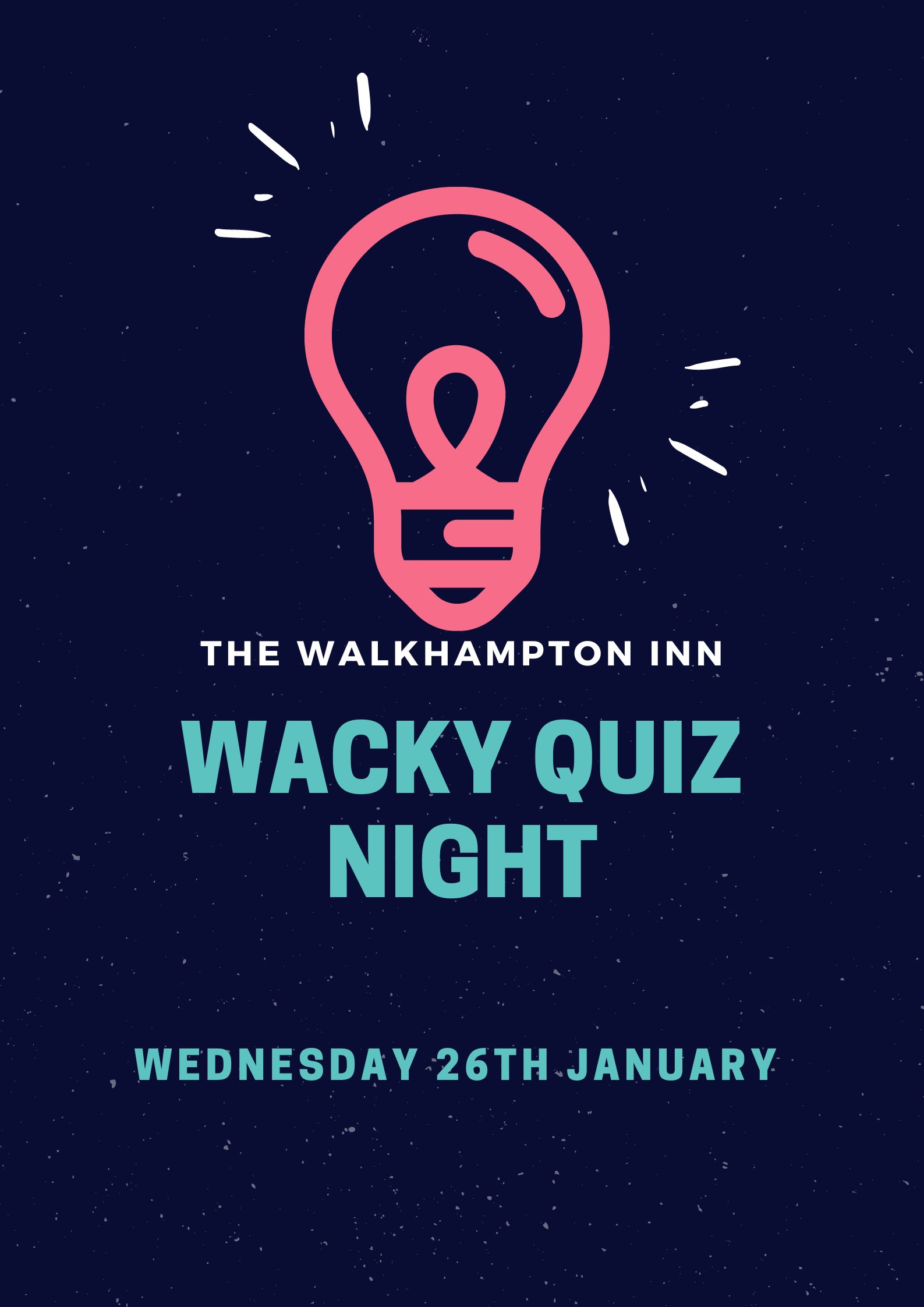 We're not far off of our first Wacky Quiz Night of 2022!! Join us on Wednesday January 26th. We are delighted to announce we will be raising money for our very own Eloise Glanville! She is working hard to raise money to fund her graduation project.
"Hi Everyone, On the 26th of January, I will be fundraising at the Walkhampton Inn to help fund my university London Show!
Being in my third year of my Photography BA course at the University of the West of England Bristol, myself and many other students have struggled to reap rewards from the course we would have had without the pandemic. We are now finally able to have our work seen by others at a major event. Showing our work in London's Truman Brewery will give us all the opportunity to kickstart our career and launch ourselves within the art world. Giving us the space to meet influential people who may lead us to the career opportunities we will need post uni. Also, more importantly, our family and friends can finally see in person the efforts we have all put into the course and what we have to show for our three years of hard work, late nights and a lot of stress!
It is all so worth it though for this will be such a celebratory moment. There's only one thing left stopping us. To have mine and others work shown in London, the Truman Brewery where we will exhibit will cost around £10,000.  Hopefully with some help from the university we have a total of around £6000 to date.
As all fundraising events have been in Bristol so far, I thought I could hold a fundraiser around family and friends at home. A fun evening filled with drinks, laughs and even a raffle! Prizes will be confirmed later on in the week. I feel a large amount of Walkhampton and those surrounding the area have seen and helped me through this course and so it would be lovely to hold a space to celebrate it coming to an end and what's yet to come! If you cannot attend the quiz but still wish to help, here is our justgiving page https://l.facebook.com/l.php?u=https%3A%2F%2Fwww.justgiving.com%2Fcrowdfunding%2Fvessel-exhibition%3Futm_id%3D2%26utm_term%3DzJqVK8m9m%26fbclid%3DIwAR0lFMGOugRE9o59TLBmNz5UNYFw6nQB7rJMUnThRJgyb640Pflro9xxkxo&h=AT2g2hACqxpkZQVLVHshB6Y3Xt63But4duVrov1IfgzNhRPQA7fJHvt3ksDSC7mjlSqPv1MUuAeyLwplVbDH1i8oD3votPouGRAmQFT-aZiKUrPGaJCT8YOkbZhneO9dVF4
.
If you would like to take part in the raffle and can't make it, please message either Eloise or Walkhampton Inn and we will put your name in the bucket! Any help is largely appreciated. Hope to see you all there!!"
We'll have our Special Burns Night Special for the evening. As always, please make sure you book to avoid missing out. Teams of 6 maximum, 7:30pm start.